1. Product Name
Trade Name:
1303 Fast Yellow BXL
C.I. Number: Pigment Yellow 13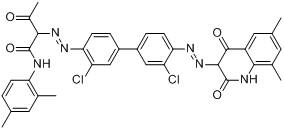 CAS Number: 5102-83-0
EU Number: 225-822-9
Chamical Family: Disazo
2. Physical, Chemical and Fastness Properties
Molecular Weight: 685.60
Molecular Formula: C36H34Cl2N6O4
P.H. Value: 6.0-7.0
Density: 1.6
Oil Absorption(ml/100g): 35-45
Light Fastness: 5
Heat Resistance: 180℃
Water Resistance: 5
Oil Resistance: 4
Acid Resistance: 5
Alkali Resistance: 5
3. Application
Shade: Reddish Yellow, Transparent
Main Application: Solvent-based Ink
Chemical Name:
Pigment Yellow 13
Synonyms:
c.i. 21100;c.i. 21090;Pigment Yellow 12;Pigment Yellow 13;Tranzidene Yellow;Benzidine Yellow 45-2650;2,2'-((3,3'-dichloro-4,4'-biphenylylene)diazo)bisacetoanilide;2,2'-((3,3'-Dichloro(1,1'-biphenyl)-4,4'-diyl)bis(azo))bis(3-oxo-N-phenyl-butanamide)
Molecular Formula:
C32H26Cl2N6O4
Pigment Yellow 13
Property
EPA Substance Registry System:
Pigment Yellow 13

Chemical Properties,Usage,Production
General Description
Odorless fine yellow powder.
Air & Water Reactions
Azo dyes can be explosive when suspended in air at specific concentrations. Insoluble in water.
Reactivity Profile
Pigment Yellow 13 is incompatible with strong oxidizing agents.
Health Hazard
ACUTE/CHRONIC HAZARDS: When heated to decomposition Pigment Yellow 13 emits very toxic fumes of chlorine and nitrogen oxides.
Fire Hazard
Flash point data for Pigment Yellow 13 are not available; however, Pigment Yellow 13 is probably combustible.
Pigment Yellow 13

Preparation Products And Raw materials